Additional GE Mark control system simulations
December 2010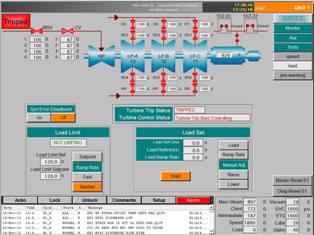 Main screen of Calvert Cliffs simulated DEHC

(enlarge)
Major simulator upgrade contracts with Corys Thunder Inc. for Calvert Cliffs and Hope Creek nuclear plants included a simulation of their Turbine Digital Electro-Hydraulic Control (DEHC), both based on the General Electric's Mark VI® control system, whose graphical user interfaces were entrusted to Thunder España Simulación.
Thunder España enhanced the automatic conversion module integrated in ThunderEdit to process GE's Cimplicity® files, which to date had been used in the simulation of different flavors of Mark control systems for combined-cycle plants: Mark V (TriEnergy, Thailand), Mark VI (Wansley, Georgia, U.S.) and, currently, Mark VIe (Sabiya, Kuwait).

Factory acceptance tests for both simulations, Calvert Cliffs and Hope Creek, were succesfully carried out at Corys Thunder Inc. offices with Thunder España engineer Beatriz Vidal on-site support.
---
Thunder España at Spanish Nuclear Society and CEIDEN meetings
October 2010
The 36th Annual Meeting of the Spanish Nuclear Society was held in Santiago de Compostela, Spain, from October 5 to 8. During the event, several technical sessions covering different topics were conducted by professionals and companies from the Spanish nuclear sector. Thunder España Simulación presented the paper «Trainining Solutions to the Global Challenges of a Nuclear Renaissance» (downloadable here), co-authored with Corys T.E.S.S. and Corys Thunder Inc., in the "Operation" session.
Previously, Thunder España attended the 4th General Assembly of CEIDEN, the Spanish Technological Platform for Nuclear Fission Energy, in Madrid on September 30. CEIDEN is sponsored by the Government and the Nuclear Safety Council to promote and coordinate the participation of national entities (ministries, private companies, research centers, universities) in fission R&D programs.
---
U.S. Nuclear Regulatory Commission project
September 2010
As part of a large contract signed between the U.S. NRC and Corys Thunder Inc. to update one of the full-scope simulators used in inspectors' training, Thunder España Simulación is in charge of the replacement of the Plant Process Computer.
The simulator, a Westinghouse-designed PWR, is located in the NRC's Technical Training Center in Chattanooga (Tennessee) and is based on the now decommissioned Trojan NPP in Oregon. This project also includes the rehosting of the simulator to PCs running T-REX platform, the upgrading of neutronics and thermal-hydraulic models to THOR-S3R and the design and set-up of a completely digital control room (hardware and software).
---
15th edition of the Nuclear Marathon
September 2010
Thunder España Simulación was present in the 15th Nuclear Marathon, which ended in Madrid last September 25.

This event is organized annually by WONUC to defend the use of nuclear power for peaceful purposes, and was held in Spain for the first time with the objective of supporting the continuity of Garoña's NPP (scheduled by the Government to be decommissioned in June, 2013).

Mario Garcés took part in the last stages (Garoña, Burgos and Madrid), along with participants from the nuclear industry all over the world, including representatives from countries such as Spain, Switzerland, Italy, Romania, Hungary, Russia, Ukraine or Kazakhstan. Mario finished the competitive 7 km last stage in 15th place. Russian Leningrad NPP worker Aleksey Brusnitsyn was the winner.
---