Latest training activities on Severe Accident
April 2013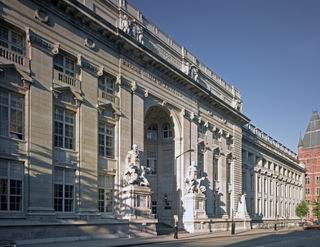 Royal School of Mines at Imperial College London
On April 15-19, the Royal School of Mines at Imperial College London hosted a Short Course on Severe Accident Phenomenology organized by the Centre for Nuclear Engineering and SARNET, the European Commission Severe Accident Research Network. Ana Alonso, from Thunder España, attended the one-week course along with more than sixty students from all over Europe and neighboring countries. With lectures given by international experts from major nuclear institutes, universities and industry, the course focused on disseminating the knowledge gained on severe accident in the last two decades.

Meanwhile, at the Monticello Full Scope Training Simulator in Minnesota (USA), licensed operator requalification training was being conducted on the world's first fully integrated real-time severe accident models, developed by CORYS, which allow to extend training scenarios beyond core damage and vessel breach. The initial results from this ongoing experience will be discussed at the upcoming European Nuclear Society
NESTet Conference
on Nuclear Education and Training, to be held in November, in a joint presentation by Thunder España, Xcel Energy and CORYS.
---
Fukushima Impact on Training Simulators
November 2012
Fukushima Special Session at the SNE Annual Meeting
(Photo: SNE)
Thunder España participated in the 38th Annual Meeting of the Spanish Nuclear Society (SNE) with the paper "Fukushima Impact on Training Simulators" (downloadable here, in Spanish). The article summarizes the expected upgrades in current training simulators as a consequence of the lessons learned from the Fukushima-Daiichi disaster in March 2011. Many of the changes will be needed just to reflect the modifications to be implemented at the plants following new regulations intended to increase safety margins in accidents beyond design basis.
Others will provide additional capabilities to train operators and personnel involved in Emergency Management in severe and extended damage accident scenarios. The article presents some real examples from recent innovative projects.
The meeting, held on October 17-19 in the city of Cáceres (Spain), gathered 700 nuclear professionals from all fields in the industry. Thunder España paper was included in the Training track and was voted by the audience as the best presentation in its session.
---
PAUL Project presented at SimTech 2012
October 2012
PAUL presentation by Mario Garcés and Beatriz Vidal
PAUL, Thunder España R&D project on electric distribution grid simulation, was presented at SimTech 2012, one of the largest gatherings of power plant simulator professionals in the US.
The conference, hosted in New Orleans by Corys, also included a T-REX User Meeting where Thunder engineers received customer feedback on the widely used simulation platform and related tools.

PAUL is a joint project with E.ON España Distribución and CIC Consulting Informático intended to build a management and simulation tool to support E.ON distribution operations in the north of Spain, where the impact of renewable energy sources is increasingly important. The two-year project started in mid-2011 and it is still in the development stage. PAUL is financed partly by the Cantabrian regional government with European Union funds.
---
Charity sports challenge completed
October 2012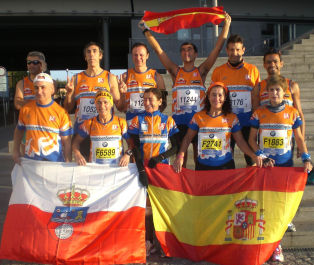 Santander runners before heading to the starting line
On September 30th, a twelve-strong team of runners from Santander completed the 39th Berlin Marathon. At the same time, they reached their goal of raising 2,500€ for AMPROS, a regional nonprofit organization devoted to improve the quality of life of people with mental disabilities. The money will be used to purchase new sports equipment. The runners belong to CorriendoenSantander Sports Club, proudly sponsored by Thunder España.
---